Detailed real-time Earth rendering
- Benoit Neil -
Page best seen at 1600x1200 resolution or more
| | |
| --- | --- |
| The few images on this page are a excerpt from a bigger project I worked on, for Silicon-Worlds. One part of this project was Detailed real-time Earth rendering. Main features are: | |
Real-time rendering on a med-end PC (from a 1 GHz CPU + 64 Mo 3D video card)
Realistic rendering

Specular highlight using cube map (Better look than using the Lambert model applied on vertices) affected by surface reflexivity
Adaptive models (GeoMipMaps method)
Adaptive detailed textures (40000x20000 pixels, roughly 12 GB of uncompressed data):

4 texture units, at 24 bits per pixel (Day, night, reflexivity, normal map)
1 unit at 32 bits per pixel (Cloud layer)

Multi-scale rendering in a scene graph (Ability to render very small object as well as huge ones, without depth-buffer issues such as z-fighting)
Integration and adaptation for a real-time rendering engine, partially using specific plugins
Note: images with a thin border have a higher resolution version available.

On the picture below, the generated image has no atmosphere. This why it appears less blueish and has a more visible specular highlight.
Adaptive texture: a zoom on Earth ('Daylight' texture only)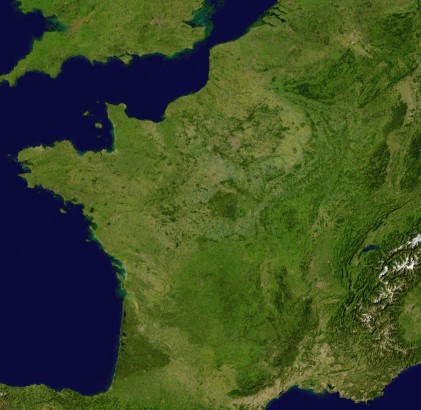 Initial version (8000x4000, roughly 92 MB per texture) compared to my project (40000x20000).

Other screenshots: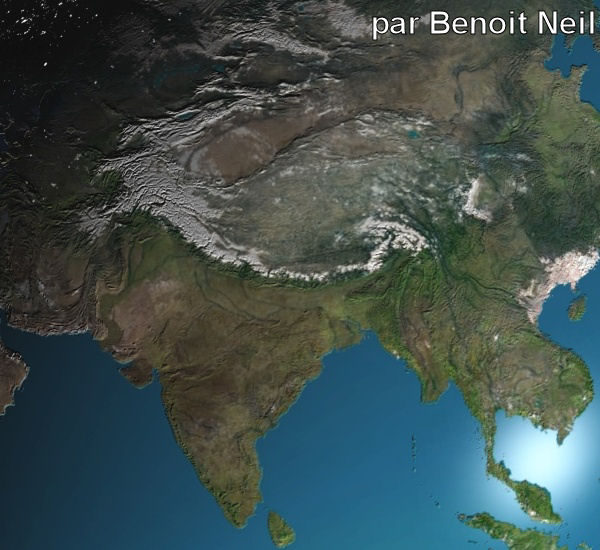 Detail of the normal mapping (Intensified effect for illustrative purposes)